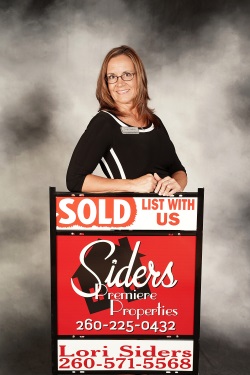 Lori Siders
Since 1999 Lori Siders has been providing buyers and sellers with high quality service in the real estate profession. As the licensed broker/owner of Siders Premiere Properties, LLC, Lori has attained a level of expertise and education that has helped her acquire and maintain the respect of not only her clients, but her peers as well. Lori is a member of Indiana Regional MLS (IRMLS), which allows her to stay on top of information on listings in a majority of Indiana Counties, including Wabash, Grant, Miami, Huntington and Kosciusko Counties. She is licensed to show homes in the entire state of Indiana and is a member of the Realtor Association of Central Indiana. Lori previously served on the Professional Standards Board, and the Board of Directors for CIRMLS. She is a member of Indiana Association of Realtors and the National Association of Realtors.
In 2013 Lori was the #1 selling agent in Wabash County according to the Central Indiana Regional MLS. Siders Premiere Properties was the #2 selling office. This was huge for only being in business one and a half years and at the time only one agent.
In listing or selling homes, Lori's strong conviction of, "honesty is the best policy" has been at the center of her business. "I want to make the buying or selling process as pleasant as possible for my client, that's why I adhere to the strictest code of honesty. That way there are no surprises for either party." Lori has been a lifetime resident of Wabash County and loves her home. "My friends and family are here. This has been a great place to grow up and raise a family, and so many of my clients have become friends as well!" She is a member of Urbana Yoke Parish Church and has been active in GAP Ministry, participating in three mission trips. "God has truly blessed my life. I want to give something in return for those blessings."
You can call Lori at 260-571-5568 or email her at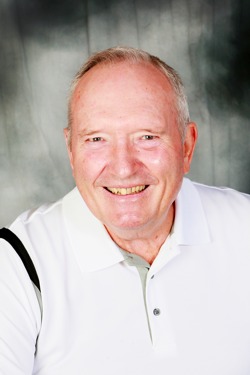 Dave Ervin
Dave Ervin obtained his Real Estate license in December of 2013 when he joined Siders Premiere Properties. Dave has had several years of experience in Sales and Customer Service during his tenure at Wabash Electric Supply prior to his retirement. Dave likes to stay active in the community and has become very interested in the Real Estate market over the last couple years. He is an avid golfer and a loves sports including watching his grandson play at Northfield High School. Dave and his wife Georgia are members of the Richvalley United Methodist Church. Dave previously served on the United Fund Board. Dave and Georgia's daughter Kelly, son in-law Troy Dyson and children all live in the area, with their son Kevin and family residing in the Indianapolis area.
Dave is a member of the Indiana Regional MLS (IRMLS), the Realtor Association of Central Indiana, Indiana Association of Realtors and the National Association of Realtors. Dave looks forward to working with buyers and sellers in the Wabash area. As an added plus, his family used to live on Little Barbie in Kosciusko County, so he is very familiar with that area if you are considering a summer or year round home on the lakes.
You can call Dave at 260-571-1903 or email him at