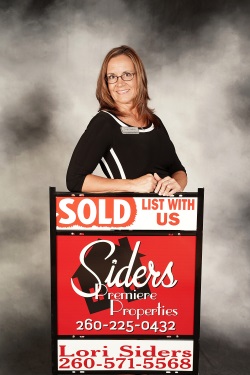 Lori Siders
Since 1999 Lori Siders has been providing buyers and sellers with high quality service in the real estate profession. As the licensed broker/owner of Siders Premiere Properties, LLC, Lori has attained a level of expertise and education that has helped her acquire and maintain the respect of not only her clients, but her peers as well. Lori is a member of Indiana Regional MLS (IRMLS), which allows her to stay on top of information on listings in a majority of Indiana Counties, including Wabash, Grant, Miami, Huntington and Kosciusko Counties. She is licensed to show homes in the entire state of Indiana and is a member of the Realtor Association of Central Indiana. Lori previously served on the Professional Standards Board, and the Board of Directors for CIRMLS. She is a member of Indiana Association of Realtors and the National Association of Realtors.
In 2013 Lori was the #1 selling agent in Wabash County according to the Central Indiana Regional MLS. Siders Premiere Properties was the #2 selling office. This was huge for only being in business one and a half years and at the time only one agent.
In listing or selling homes, Lori's strong conviction of, "honesty is the best policy" has been at the center of her business. "I want to make the buying or selling process as pleasant as possible for my client, that's why I adhere to the strictest code of honesty. That way there are no surprises for either party." Lori has been a lifetime resident of Wabash County and loves her home. "My friends and family are here. This has been a great place to grow up and raise a family, and so many of my clients have become friends as well!" She is a member of Urbana Yoke Parish Church and has been active in GAP Ministry, participating in three mission trips. "God has truly blessed my life. I want to give something in return for those blessings."
You can call Lori at (260) 571-5568 or email her at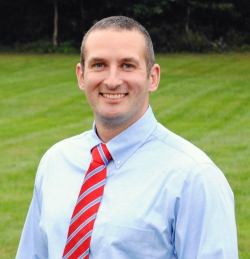 Bob Fairchild
Bob is a member of Indiana Regional MLS (IRMLS) and the Realtor Association of Central Indiana. He has recently joined Siders Premiere Properties LLC in Wabash. Bob holds a degree from Indiana University in business management with a minor in information systems. For the last 12 years, Bob has worked in the public sector. Bob is a life‐long resident of Wabash County, where his wife, Tabatha, is a local middle school teacher. They are proud parents of three children.
Whether you are buying, selling, or investing, Bob would love the opportunity to meet with you and discuss your goals. Bob believes the greatest asset a real estate broker can have is the ability to listen and accurately assess each client's needs. Working as your partner through each step of the process, he will allow you to feel confident that you have all the information you need to make the right choice.
Give Bob a call at (260) 450‐4483 or email him at .